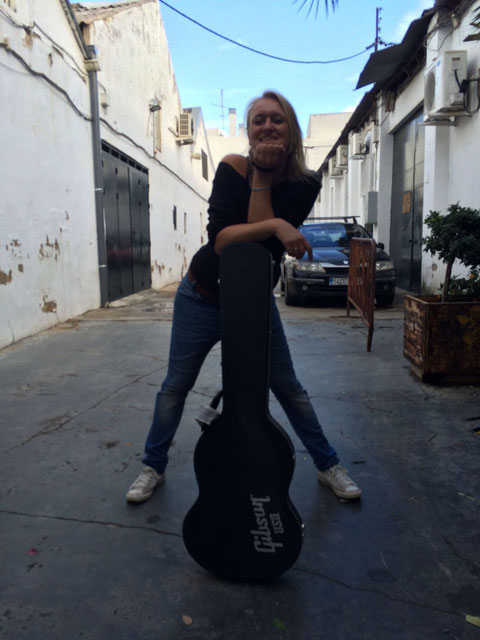 ---
In the labyrinth of the streets of old town Seville there's a hidden treasure that appears like another little world in the middle of the city – a world of musicians, artists and artisans: The Pelicano.
Also nearby Pasaje Mallol offers great co-working spaces and other workshops that are rented out as Yoga and Dance Studios. The "Zona de Pasaje Mallol" and the "Zona Plaza Pelicano" together could be best described as a little village of creative minds and is ultimately developing to the Alternative Centre of Sevilla with new concepts of work places and living of Public Art. 
This old industrial zone from the 1920s is one of the few places in Seville where artists and musicians can rent out workshops and rehearsal rooms and work on what they most love to do: A.R.T.
By walking between the walls of the old fabric houses one can breath this fulminant artistic vibe in the air:  From Flamenco Dance and Guitar Workshops to Rumba Percussion Classes, Improvisational Theatre, Capoeira and Rock Bands. Everywhere you go, you are surrounded of a spirit of experimental art. 
It appears to me like a factory of dreams in the middle of the buzzling city:
Artists are working on their projects trying to make a living out of it, which gives this area this special atmosphere of a parallel universe with totally different ideas of values and appreciation of life.
Speaking in financial terms, the situation for artists in Seville is pretty difficult: Half of the culture budget goes into Flamenco events like the Flamenco Biennale, the biggest event in this music genre. Concert venues have to pay very high taxes to host concerts  (one of the highest in Europe with nearly 20%) and there is little money left to support the development of the poor infrastructure of alternative music scenes, which is outside the world of Flamenco.
This very little support of government,  let's Seville's artists get pretty inventive to find their own spaces like the Pelicano,  an arts world that feels like a resistance of existing conservative structures of the city.
Most of the rehearsal rooms in the Pelicano are not well insulated, but that's what is there and more and more people are putting some great effort into restoring the rehearsal rooms. So does Paco, a drummer and talented carpenter that fixed up one of the rehearsal rooms that we rent.
If you are in Sevilla and looking for a rehearsal room to rent or to be connected to musicians of the Pelicano - contact us!