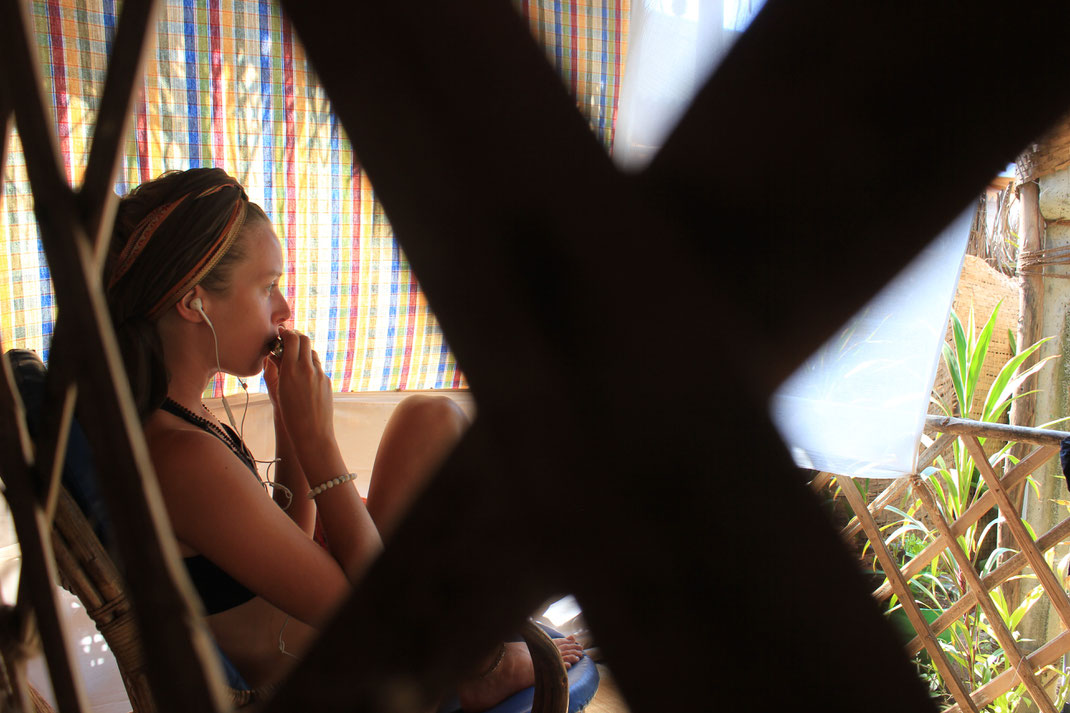 After a chill out stop in Agonda with some awesome musical nights together with S. and A. in the south of Goa, M. and I moved on to the state of Karnataka to stay in Gokarna. Gokarna is home to four beach areas: Kuddle Beach and OM Beach (it got its name due to its shape of an OM symbol), Half Moon Beach and Paradise Beach. All of them are much less crowded as those beaches of Northern Goa and more "Hindu". Two of them are not accessible with motorized vehicles and therefore appear to be a whole different world. As we heard before, Paradise Beach is home for people that just live on the beach in hammocks and cook their own food living the wild jungle beach life.
In order to get to those beaches one has to walk through jungle coastal mountains for respectively half to one hour or take a boat that only goes randomly when the waters are calm.
When we finally arrived at the magical place of Half Moon Beach we found some very, very basic huts with hardly electricity run by a family of Grandma and Grandpa that still live on very traditional terms, with rice cultivation on tiny fields next to the ocean, wearing traditional clothes (which means they hardly wear clothes), and their grandsons, that operate the two beach shacks.  What else is there? Well a beautiful Jungle surrounding, a calm little beach and a little crowd of hippies from all over the world, that's it! This mixture makes this place to one of the mellowest but most interesting places I've ever been to.
Basically we got stucked in Half Moon Beach: Every day when we were thinking about leaving to move on, we simply couldn't leave. The atmosphere just keeps you there with its mellow people, sunrises and sunsets and magic full moon nights. Basically everyone was into music and could play some tunes, so my little guitar was very popular among young and old.
Those places and the people that gather there remind pretty much on Rainbow Festivals, where, for a period of time travelers meet and rest, creating a little tribe of Utopia with a glimpse of a feeling that a peaceful world could be possible. 
If you are looking for a place with an environment to be creative and create music, art, poetry, doing yoga or whatever, this is definitely a place to go. 
PS: My lovely Malin thanks for a wonderful travel adventure together!