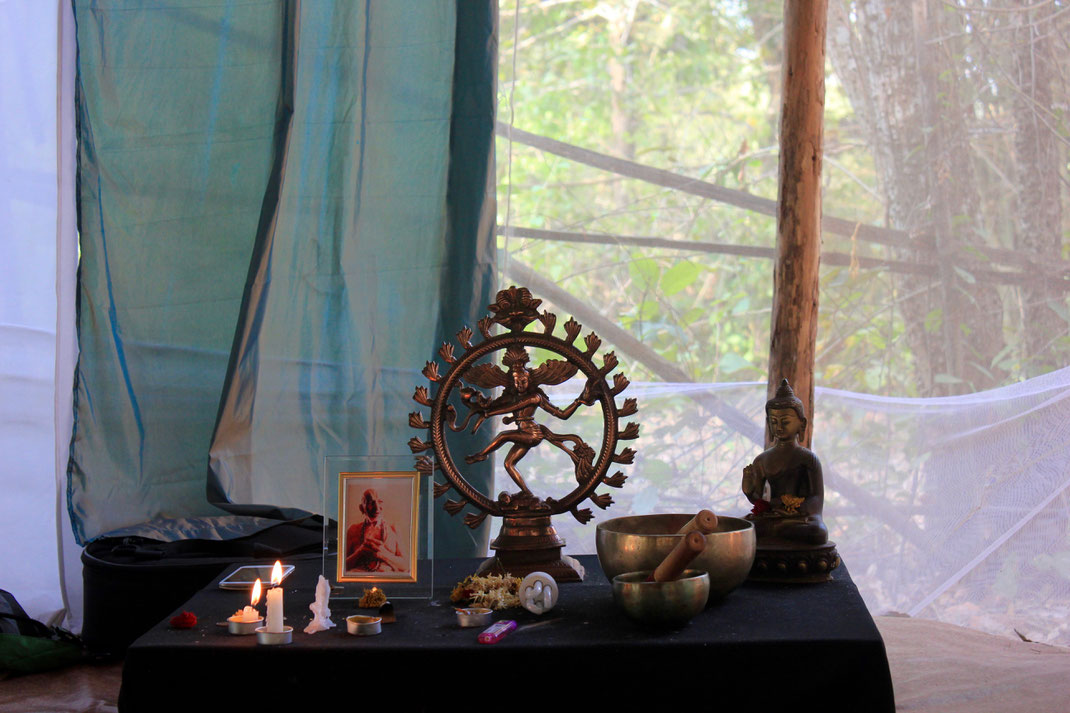 ---
From 7am till 7pm in the evening, 6 days a week: It's all about Yoga!  I can't deny: It's really intense and broadens up my physical and mental abilities. I feel blessed and thankful that I gain this experience and about having the opportunity to learn so much.
Waking up with some religious chanting in the near distance we start our mornings with Asanas (physical Yoga practices), Pranayama (Breathing techniques) and Meditation sequences before we have breakfast. We go on with Anatomy and Alignment classes, learning about the effects of the postures on our bodies, which muscles are engaged and how the whole body structure synergizes. In Alignment class we learn about how to "align" Asanas, which means how to explain and correct postures. In the afternoon we have Philosophy, Teaching Methodology and either Asana class again or Restorative Yoga. We finish the day with Meditation or Yin Yoga Practice, which often gets really deep into emotions.
So, sun comes up we are busy with Yoga,  sun goes down we are still busy with Yoga. Intensive, but awesome.
The twelve people of our course are coming from Spain, Germany, Netherlands, England and Indonesia. It's really a nice bunch of people – every day we grow together more and more through this intensive experience that we are sharing.
We are situated in a jungle area surrounded by the lush green of trees and palms and  by the sounds of humming birds and insects, 4km away from buzzling Arambol.
The so-called "Jungle Dance Café" is a hidden treasure for silence seekers but also a space for artists to set up workshops and shows…and of course for Yoga.
The last week I had some really nice musical experiences, taking part in a "Free your Voice" workshop. Later on we had a music session at Love temple next to the beach, playing drums and guitars. People started to dance like crazy on the tables and sofas, others went into shamanic singing – and a brilliant vibe was created. Goa is a kind of parallel universe.
Last but not least I got to know some nice musicians and I had my first paid gig in a restaurant on the beach yesterday, which was great! Wooohhooo! I played together with Will a songwriter from England and Merel. Playing the drums with the sound of the waves of the Arabic Sea in my back was quiet a pleasant experience.
…Talking with all those inspiring people here about ideas of how to connect Yoga and Music practice lets me feel that I have chosen the right path to come here. Goa is a paradise for Musicians.
Om Shanti! Shanti! Shanti! Namaste.
Click on the photos below for dia show...