---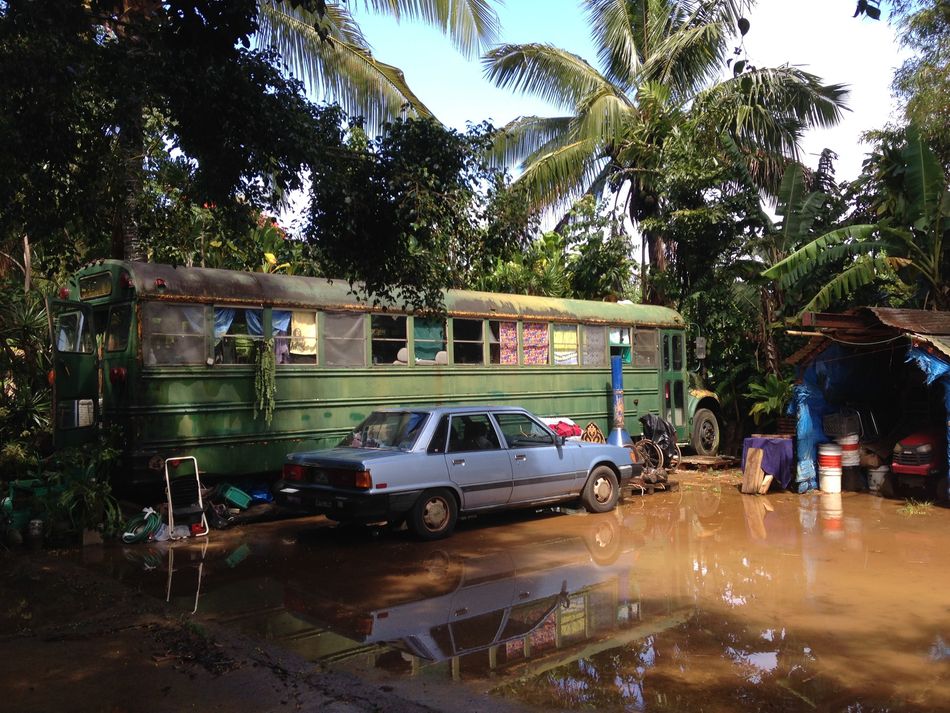 It's been ten days that I'm on Maui and it felt good to be back here after 12 years! From the first day I felt like home here – I got the same room that I had back then and Steve borrows me his car and I'm free to move around. I'm living upcountry in a kind of jungle area where it's nearly always humid and raining a lot. Steve got a  very huge property and I live here with Steve, Marc, Rose, Michelle, Patrick, Markus, Dave and Patrick. Rose and Michelle live in two old School Busses that are on the property which is really cool.  All of them are into music and art: Marcus and Steve are professional musicians – Marcus played with a lot of famous musicians like Billy Idol and Willie Nelson,  Steve worked for Bob Rock, who produced albums from Metallica, Patrick is an audio engineer who worked with many bands, too and still is working here in the studio that we got in the house. Except Marc and Rose they are all already in their 60s and they all formed part oft the hippie movement in the 1960s/70s in California,  they hitch hiked the USA and played music during many years and it's so much fun listening to their stories. Three days ago I met Toto who is a popular percussionist and I was so overwhelmed when he told me that he'll go on tour with Neil Young this summer - I was like whaaaaat???? Neil Young? Oh man....
 It's so nice to be in this musical environment and everything seems more reachable here and I'm so motivated to work on my musical skills. 
Watch the music video below to see crazy Jose and a bit of the show that we were playing yesterday at the Yacht Club.