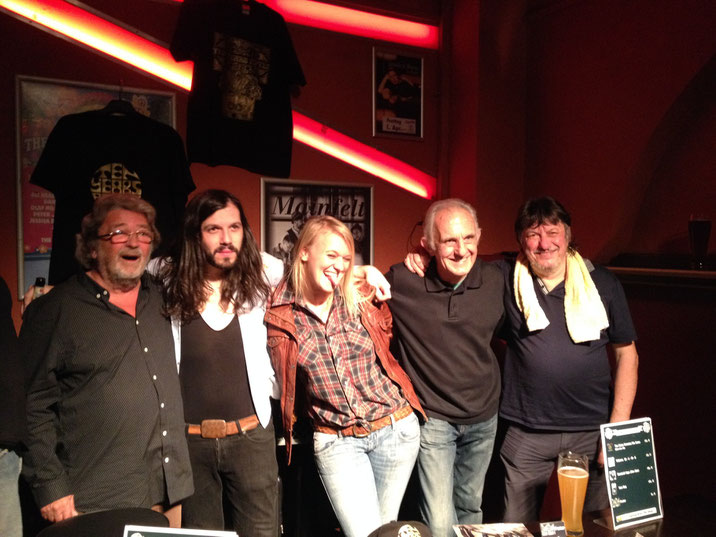 do you know that feeling when you leave home in purpose of going out to the city but you feel so tired and you think it's tooooo cold outside and it's toooooo far to get there and you'd rather prefer hanging around on the sofa watching movies or something? Then you enter the venue!... - the band starts to play....... and puts a big shiny bright super smile on your face, your heart opens up, the blood cells in your veins seem like dancing a molecule dance and  make you feel like a brand new human being!  jajaja oh yes!  this is the power of live music! and this is what happened to me last weekend again when we went to the concert of  'ten years after' a cult band from the late 1960s/ 1970s in the legendary Colos Saal in Aschaffenburg. Of course I didn't miss out the chance to meet the band and take a photo with them. I'm very honored of having had the opportunity of  meeting them.
After the show, when they came from backstage to the march stand  - people were already waiting for them for signatures,  but there was nearly no younger audience or let's say younger girls - so in order to create and give them back a bit of their pop star feeling that they had in the 1970s I started screaming oooooohhooooo oohhhooo ooouuaaaa they are coming!!!!! when they passed me...and they gave me a scary look and started laughing and it was a good start for a little chat :) Oh man I can be so embarrassing ;)  
Only two of the four remain original members. But the young Marcus Bonfanti is doing a great job as new frontman and guitarist. Great show - great evening!