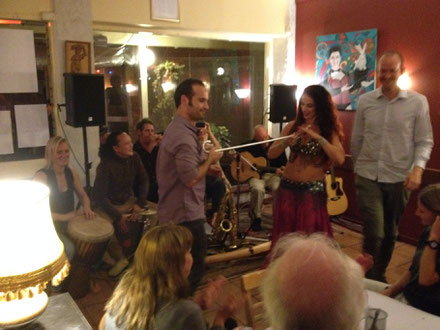 On Friday evening I had the pleasure to join the Band "East Wind" from Fremantle supporting  them on percussion in a three hours show in a Tapas Bar in Freo. The band consists of a guitar player, the Estonian singer Kristiina who has an incredible voice,  a damn good Saxophone player and  Sanshi, the Japanese Didgeridoo god. He's amazing!!! …And well this time with me on percussion. They play ( we played) a mix of all kinds of music from oriental stuff to Nordic (Estonian) folksongs. It was  quiet challenging  for me as they are all very good musicians and the rythms were quiet complicated going from Irish folks songs to Arabic songs and Improvisation and I never practiced with them before. But it worked out really good and I found my way into the music quiet easily after the first two songs. The saxophone player also plays all kind of flutes so that the music changes its ambient totally when he's taking another kind of flute. The top of the show is the belly dancer! She came in for three songs and really shocked all the men in the bar with her beauty dancing. It was so funny to see the faces of the men..You could really see what they were thinking of haha :)  She was doing a fantastic performance! It's really such a nice mix of instruments..with the didgeridoo and the saxophone...

After the show we had dinner together. Yummi Spanish food with fabulous Spanish chesse. Oh my god it was such a long time I haven't had such a good cheese!
And even they split the momey with me! I really didn't want it as I was happy that I could join them…but I had no chance!

All of this inspires me a lot! Thanks MUSIC !!!