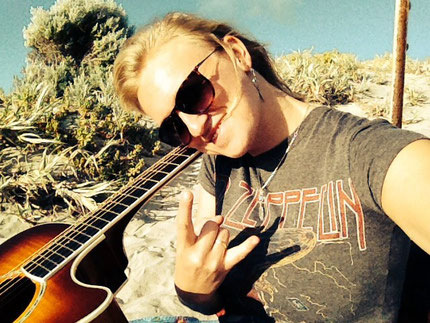 On friday I had my first Jam Session with a brilliant Didgeridoo Player and a bunch of other Didge and drum Players. The Jam Session took place spontaneously in a  shop which is specialized in high quality didgeridoos and they are marketing didgeridoos from one family tribe that has a tradition in didgeridoo making for over 3000 years.
I really enjoy being here... I'm taking and (am needing) the time for myself playing guitar and writing on the beach and connecting to myself here. It's wonderful!
Haha yesterday I passed  a bus with an one old hippie sitting inside with his guitar. He asked me if he can join me playing on the beach and I said: "Don't take it for granted but I jsut arrived and would like to play a bit for myself". He was totally okay with that, gibing me an understanding "Hey I know those moments" - smile and gave me some tipps were are the less windy sports to play. He said: I'm playing here since over 20 years" Yeah Yeah...this all reminds me on the USA here..

 I live in Fremantle which is a little town on the beach near Perth. I decided not to look for an apartment in Perth but having an apartment close to the beach and it was a good decision as it takes me the same time to the University where I'm working as if I'd have chosen an apartment in the city. Freo is quiet famous for its really laid back lifestyle and there's a lot of Hippies hanging out here. The most important questions are: Shall we have coffee first? Or go first to the beach? Or first beach and than coffee? I don't knooow ;) Also very important things to have here are: Long Hair, Tattoos and a Skateboard. Until late night I can hear the skateboards grinding from my balcony. It reminds me on my young childhood…when I also tried to be a cool skateboarder  ;)

One thing that really shocked me is that as the cliché tells about aboriginal people being alcoholic and hanging around on the street and not being integrated in the "Australian society" just was totally fulfilled when I got here. That's so terrible. I don't wanna sound naive but it really shocked me to see that there's such a strong segregation going on here. Of course I know that not all aboriginal are drunkards but arriving here all the ones I saw were drunk! I mean I know about the struggles of segregation in other countries due to colonization but here it seems even worse to me to a certain extend: 2% of Australian population are aboriginal and I mean it was their land but it seems they are not integrated AT ALL!! Oh man…what the fuck happened? I still don't know too much about the structures behind that paralleled society that's why I need to be careful of what I'm saying but I wanna get to know more about the aboriginal politics here as it can't be true!! I really would love to get to know more about their culture and hopefully will share it with you..

After being in Korea where everyone is so concerned about their bodies and is dressed up nicely and clean (Oh man I'm really talking in stereotypes in this blog – I'm sorry – but it's just what my experience is) it seems to be so strange to be here seeing so many people that really don't care how they look like – So viele feddische Leud hab ich schon lang nimmer gesehe ;) - but on the other hand it's so nice – its such a multicultural place and you find people from all over the world! The people are very friendly and open here and the nature is just amazing…On my flight from Bali to here I made friend with an indonesian girl and we met yesterday as well..We were chatting and laghing the whole flight and for sure we were annoying lost of people...I'm stucking with the Asians ;) By the way Bali is for Australians what Mallorca is for Germans...When I was there I was overwhelmed by all the Australian rednecks...
Apart from all the shocks that I got from social realities here it's indeed a fantastic place to be! …And it seems that there's a lot of music going on.
So after coming back from Perth on friday I just popped in that shop and started playing on one of the drums and then the owner joined  playing the didge– a very nice Japanese guy –  and also some other people started to  just taking the instruments from the shop and we really rocked the show. The shop is more like a hang out place for Didigeridoo-fetish-people I guess ;)   I never went into didgeridoo playing – it always gave me a too strange feeling on my lips and I rather left that to Mario or others ;) But now here in Australia I'm thinking of giving it a try..maybe…  ;) Anyway those guys on the didge were amazing they were playing so many good rythms and fully internalized the breathing techniques… we really had a beautiful session!