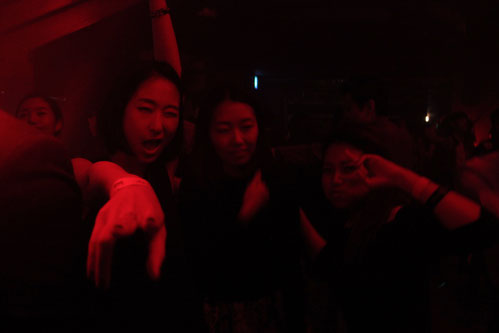 For a change I went out with my Korean girls to a "hot" club in Gangnam.  Most of the girls that I hang out here are not into Heavy Metal but that's fine I'm flexible ;) …At least one time I was able to see what's the meaning of the famous Gangnam Style song for real. For those who maybe do not know: Gangnam is a district in Seoul where the rich and beauty go out spending their money in fancy clubs drinking expansive drinks and are very concerned about their  style. We went to Octagon and the girls told me the club is ranked as the 9th best club in the world. Actually I have no idea on which criteria they put those strange rankings but actually the club -from the sound and the interior- was able to compete with the clubs in Ibiza but not the music ;).
We went running there to get in before 11pm so that we don't have to pay the full price. We were there exactly at this time and they said half minute later we would have to pay the whole price..
The first thing we did is going to the Women Restroom. But those restrooms are really rooms to rest: I never saw it before in my life in any club..the restrooms where like little parallel universes inside the club  only for women. Girls hanging around on Sofas..smoking and drinking and the most important: watching themselves in the many mirrors that covered the whole area and taking selfies and renewing their make-up again and again…Korean girls are the most beauty obsessed I've ever seen. And I guess for all the boys beneath you…you would go crazy here for the many beautiful girls ;) Korea seems to be the Italy of Asia: Everyone is dressed up so damn nicely here…I mean it depends how you define "nice" but I mean they are really concerned so much about their outward appearance..Not only the girls also the boys. Another curious thing is that in the toilets you have mouth rinse dispenser with little paper cups to always have a fresh breath for kissing J
Well the dancefloor was still empty and Naeun said: Common before we die at least I want to have opened up an empty dance floor once in my life.. So we went and not that much later a crowd of girls in Killer High heels and mini dresses went screaming on the dancefloor like a huge swarm of bees laughing and shouting…wow what an energy that immediately got pulled off and all over sudden all the boys came to chase them…hahaha it was so funny…
Because the drinks were that much expansive we went out to a mini-shop to buy some Soju and having some Instant noodles. In this minimarts you can sit down and have your drink and can use the hot water machines to put your instant noodles to share it all together. Korean Style of a varied night.
After repeating that two or three times we got then back to the disco reinvigorated and rocked the dancefloor until the morning. It was amazing to see that fancy world – which is indeed so completely different to the Rock Scene…I like it but don't live it…