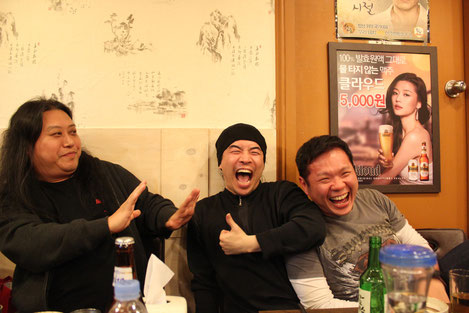 Friday after attending the North-East-Asian development forum with really interesting presentations from Japan, China, Korea and Russia I  went out with some Russian professors (sounds old but they were not much older than me) and one thing that I figured out again is that the love for cultivated drinking really connects Russian with German blood… J. Together with tow Korean friends we were exploring the posh night scene of Gangnam and of course taking a Tourist photo to show "Hey we were in Gangnam and danced Gangnam Style"  was of course included. J  I love the Russians always when I meet Russians I'm fascinated by hearing them talking Russian… The language…I love this language…
Saturday I turned back to Metal…
 Well actually I didn't expect to have such a great night on Saturday as I was still a bit with a hangover..but as many of you know those nights when you don't expect anything turn many times out to be very good ones..
I met with Dan my metal friend here in Seoul and Mickey from Singapore and we went to a concert from the bands Zihard and Bum @ the venue "Dream Hall" which is a very hidden place next door to a fitness studio. That was weird but this is actually what I like from Seoul..there are so many hidden places and you would never expect that place to have a Metal concert going on..Actually the sound in there was amazing…Even the music was loud the sound was so clear and not hurting the ears at all..good sound equipment and good sound engineer.. Thumbs up!!
After Bum was playing some nice smooth stuff -a bit experimental and melodic -Zihard went on stage and Youngsoo Park rocked the stage..I was impressed by his guitar playing..my friend told me he plays like Yngwie Malmsteen and yes indeed he does!!! Wow…
After the concert there were a whole bunch of musicians and I just went out with them for eating and drinking…
That's so curious about Korean Culture when you go out you'll have dinner maybe two or three times in a raw and you drink..Soju with beer…you sit on the floor you eat…drink.. and..having a good time…and then you go to another place and again you'll have food and drink…Soju with beer. It's like Tapas in Spain but so different, food is much more in the center here... because they have little barbecue stoves on the table and a lot of vegetables (Kimchi) and side dishes and you can refill them for free..
So I found myself with 30 or more Metalheads and among them were members of some of the most important Metalbands in Korea that wrote history in the 90s and even are active until today. I couldn't believe it. There was the guitar player from Blackhole, Black Syndrom and Zihard. I read about them before but haven't expect to meet them all at one night..It's like a big family…and I enjoyed so much hanging out with all of them..

It's funny that more than ever in my life before here in Seoul  I'm into two very polarizing worlds...on one hand dealing with all that political stuff running around in Business dresses on conferences, talking with politicians and academics about Koreas role in Africa during the day and than when the night comes Life gets a completely different perspective on reality when I go out for music...