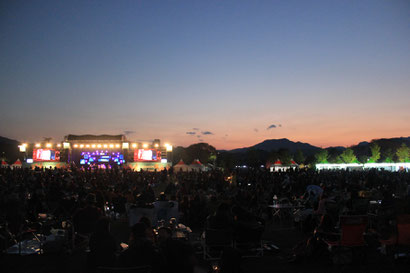 Yesterday I went to Jarasum Jazz Festival in Gapyeong which is an 1hour train ride from Seoul. Well as moving around in Seoul is so time-eating it took me 2.5 hours in all. 
..damn, it was so good to get out of the city. Situated in a magnificant scenery of mountains the first thing I did was lighting up a cigarette and just watch  the green soft shapes of these epic landscapes. I could get a first real impression of how beautiful Korea has to be and I'm so looking forward to getting out in nature again. I could feel my whole body just relaxing and the air was so good to breath. Everything seemed to move so much more smooth than in the megacity that never sleeps.

the festival itself was quiet a culture shock: I've never seen a festival so organized and clean and so chilled out. It was so much systematized and very much organized in a capitalistic manner with lot of promotions of all kinds of things that one can buy. It's a bit sad though seeing a musical event so capitalized, but the atmosphere was still good!

What I've never seen before was that EVERYONE was sitting. It really was a sitting festival. People enjoying wine or Makioli or Soju (Korean Wine) and having good food on little tables that they bring. Nearly everyone was sitting on mats. and noone goes on the mats with shoes.. even it was queit chilly when it got nightitme.

One funny thing was that when there was a break between the acts they would put simple dance videos with simple texts on the big screens and so many people just stood up and danced. Of course -when you sit all the time- at least in the break you have to dance- that's so logic :)))

You were not allowed to smoke anywhere except in ONE smoking area and  the festival site was big!

Also there was absolutely no littering. They have clean zones where you can put your trash and really it was soooo clean! Unbelievable.

It was really an experience to go there!

To the contents of the festival: the music was pretty good. All kind of famous Jazz Acts like Dominik Miller were playing but it seemed to me that really many of the visitors were not really Jazz-Lovers, I think it's just hip to go there and living this kind of life-style - listenning to Jazz and have some wine. It's really so intersting to see that.

I met one musician from Holland that played with his japanese band on the festival and also him he couldn't believe how organized everything is and he said, "it's really a kind of scarry tom me."

Well conclusion is: The festival atmosphere was good but even the scenery was so breathtaking it was a bit too emotionless due to its over-organization.
...AND: I'm a nature girl! I could feel so much more connected to myself when I got out there... but it was strang though, when I got back to the city in the night I kind a felt home and cozy, too in the metrostations with the tons of people running around and all the huge buildings and traffic and the noise. Haha :)