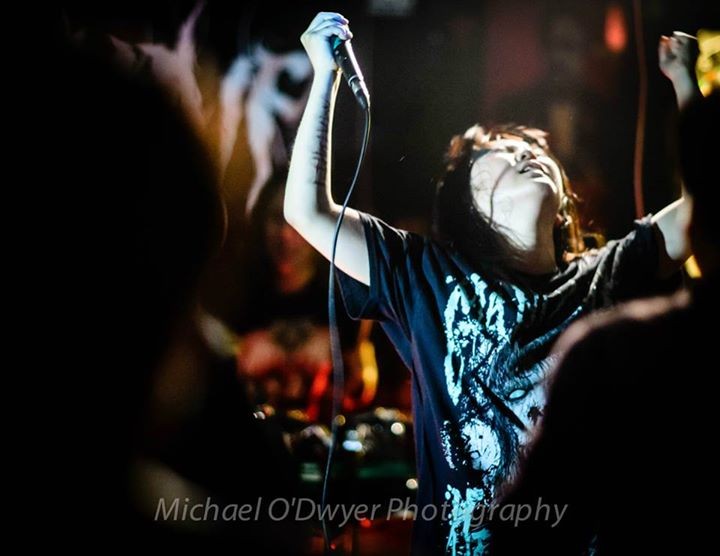 Today we went out to Zombie Walk woohooh! Quiet a crowd of Zombies walking around in the district of Hongdae scaring lots of people.  Some Zombies were really doing a good job going into shops or running after people and some got REALLY scared. Haha! was really good fun though.
But the best just came after the Walk….
I made my first steps into the Metalworld of Seoul. How exciting :)

I met some really nice people - especially Michael who is a such a great photographer! thanx for sharing the pics - and we went to a Heavy Metal Restaurant and had a lot of Soju( which is a Schnaps traditionally made from rice, wheat, or barley and without wasting time it really leads you right to the aim of being drunk very quickly). I don't know if it's true, but Koreans told me it's the most sold Schnaps in the world.
The owner of the restaurant is playing in a band and the atmosphere was just so good there! I can't remember that I've ever been to a restaurant where you can find good food and really good rock music at the same time. It is really a very unique place. While having a good meal I got a class on Korean Metal from a really nice Korean guy that has a big collection of Rockmusic . Haha and I made them so jealous on Wacken. They all wanna go! Of course – Because Wacken is the best festival in the world ;)
Afterwards we went to Threethumbs Club and were so lucky that there was just a Metalfestival going on with Bands from Seoul and Busan ( which is the 2nd largest city of Korea). Also here the atmosphere was really nice. In the entrance  at the cashier there was a girl sitting in the dark with only a candle giving a real mysterious light. You have to go up the stairs and you enter a little tiny smoky club with a wooden interior and with candles and beer for self-service. The music was really heavy! When we arrived the band "Manixive" from Busan was just starting to play and the female singer was so damn good at shouting. If you'd see that girl on street you'd never think she'd be able to scream and act like she's doing while performing.
 As there was no stage which would put the musicians on a upper level from that of the audience you were really head banging face to face with the band and I think this always creates the best atmosphere for live music. The energies of the musicians just reach you straight away and go through your body. Oh I love that!
Afterwards the bands had "midnight-dinner" in one of Seoul's traditional Barbecue-Restaurants (where you have stoves on the table to grill your own stuff) and I went with them and we had more Soju Schnaps and a real fun time.
I was glad to finally get first insights on the scene and I was lucky to hang out with all this bands that night which gave me a good entrance into Korean rock music.
videos of the bands in asia-section on this website!