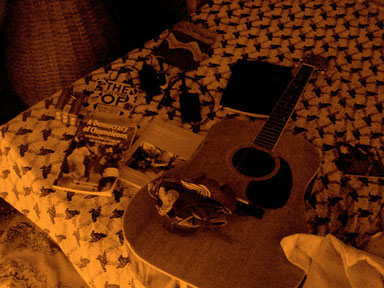 ...
When I was a young girl – aged 15 - I hitchhiked throughout Israel with two good friends of mine. We got very close friends with three Beduin guys that we stayed with for several weeks. We played Darbuca (Arabic drums) for hours many days.
Now as I'm a grown up (Oh no I'm  not – but society says I am ;)) I realize the huge impact that those moments had on my future life:  Throughout my following teens and twenties there was nothing else that I wanted more in life than playing music and travelling and explore and share other cultures through music.
No one (not even neurobiologists) really can explain with words why music affects us as much as it does. But everyone shares it: a passion for music.
In one or another way we all need music in our lifes. Music connects us and touches our heart. It expresses what words cant' express. It helps us being happy and being sad. A catalyst for our emotions - and we all love it for that!
It's been a long time that I have been thinking of opening up my diary writings to share it with people that I care and love and that care about me.

That's why...
...Feel invited to join me on musical journeys to explore music and different lifestyles throughout AFRASIA!